Airlander 10 will be flying with zero emissions by 2030. But what happens between now and then? Our selected combustion engines will play a big part in getting Airlander in the sky in the next few years and they will be crucial to the Airlander development pathway.
Airlander's design is inherently efficient. Combining buoyant lift from helium with aerodynamic lift and vectored thrust results in a low emissions aircraft. Airlander 10 will be in service from 2025 in its initial market entry configuration. This base configuration consists of four high efficiency combustion engines. The combination of these combustion engines with Airlander's technology can reduce emissions by up to 75% when compared with fixed wing aircraft in similar roles. This is a significant reduction in emissions even before we move to hybrid or all-electric variants.
We have selected combustion engines for Airlander from RED Aircraft. These RED engines offer significant environmental benefits over other similar propulsion solutions. The high thermodynamic efficiency drives low fuel consumption and optimised combustion results in reduced exhaust emissions. You can find out more in our partnership announcement.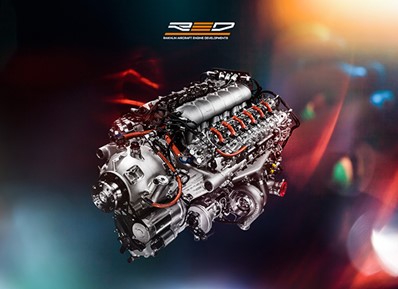 Hybrid-electric and all-electric configurations
Although hydrogen fuel cell technology is still being developed for use in aviation, Airlander has a unique ability to adopt fuel cells at an early stage. Airlander is able to adopt fuel cell technology quickly because the hull has space to store the required amount of hydrogen, unlike conventional aeroplanes. Our use of hydrogen will make zero emissions flight possible this decade.
We are working with the University of Nottingham and Collins Aerospace to develop electric motors that will be ready from 2025. This electric motor will have high efficiency and low weight. Adopting electric motors with hydrogen fuel cells will enable a hybrid-electric configuration of Airlander 10 to operate with 90% fewer emissions than other aircraft in similar roles.
The efficient combustion engines that we have selected will support our transition to hybrid-electric: two combustion engines and two electric motors.
In time, all four of Airlander 10's engines will be electric. This will give future customers the option for a zero-emissions aircraft.
Airlander combustion engine uses
The other important reason highly efficient combustion engines are needed is to facilitate different uses of the aircraft.
In a short haul mobility application, the hybrid-electric Airlander 10 will provide a 750km range with a 90% reduction in emissions. However, Airlander is a versatile aircraft and has many different applications. In a long endurance surveillance mission, combustion engines are required as they provide the power needed to fly for up to five days carrying significant payload. Therefore, combustion engines will play an important part in years to come, providing our customers with the aircraft best suited to their needs.