HAV is pleased to confirm ILC Dover as the provider of the hull for the production Airlander 10. HAV worked with ILC Dover on the hull for the prototype Airlander 10 and look forward to continuing our close working relationship.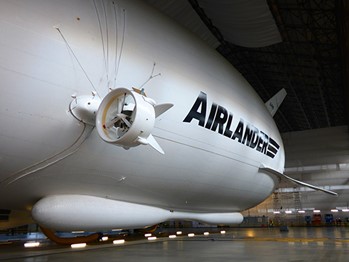 Advanced materials
The inflated hull is the main airframe of Airlander. Made from a state-of-the-art flexible laminate, the hull's material and the internal pressure from the gas give Airlander its shape. The hull material must be resistant to the weather and be smooth so that dirt does not stick to it. It must also provide a long service life while being outside in the sun for potentially 365 days a year.
The material used for the hull is a composite, which means it is multiple layers of materials permanently laminated together to form one single fabric with the desired properties. Composite technology is used for the latest aeroplanes, race cars and other high performance products. Unlike many of these applications, Airlander's hull fabric uses a different manufacturing process, resulting in a flexible material instead of a rigid one.
Each of the hull's layers provides a different property. Starting from the outside:
Tedlar® film provides the weather protection
Mylar® film keeps the helium in
Woven Vectran™ provides the structural strength
This combination of layers, sealed together using UV resistant Urethane adhesive, provides us with all of the properties required for Airlander to operate in its many applications.
Mike Durham, CTO at HAV comments: