Hybrid Air Vehicles Limited has long been a keen supporter of a variety of science, technology, engineering, and mathematics (STEM) focused educational activities. As a company that relies on the best and brightest engineers, it is important to us that the future engineers of tomorrow are being encouraged to consider STEM today.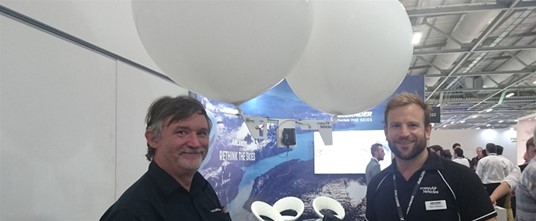 Pictured above Mark Robinson Head of Content and curiculum at The Learning Partnership and Henry Williams Projects and Events Manager at HAV. Presenting an early prototype of the competition aircraft.

This year, we are making an even greater commitment to STEM education. HAV will be the Engineering Partner for The Learning Partnership's newest STEM in schools competition, Navigate to the Line. Best known for their Race to the Line competition, The Learning Partnership develops competitions to help meet STEM curriculum objectives while building interest in careers.

The new competition will ask students to design a remote-controlled, micro:bit-enabled lighter-than-air aircraft. HAV has been involved in developing the competition and will continue to support The Learning Partnership with content designed to bring a variety of scientific principles to life. With the help of their teachers, students will explore buoyancy and the use of vectored thrust, both key parts of what makes Airlander a hybrid aircraft.

Navigate to the Line will bring students' skills together to take on a challenge inspired by Airlander's capabilities and engage them with STEM subjects. "Encouraging students to consider STEM career paths is just another way we're bringing Rethink the Skies to life across our business, and it is a goal HAV shares with The Learning Partnership," comments Tom Grundy, one of HAV's executive directors. "We look forward to seeing how the competition develops."

Educators who are interested in the competition are encouraged to contact The Learning Partnership. "2018 is our pilot year and we're looking for schools who are keen to be the first to try this new competition," adds Aulden Dunipace, Managing Director of TLP. "We're confident this is going to be an amazing competition and a great way to get Year 8 students excited about STEM."

To find out more visit Navigate to the Line.