HAV is pleased to confirm that RED Aircraft's RED A03 engine has been selected for use in the base configuration of the Airlander 10 aircraft. In this configuration, Airlander 10 will deliver a 75% reduction in emissions compared to other aircraft in similar roles.
The base configuration of Airlander 10 will be followed by a hybrid-electric variant producing 90% fewer emissions and an all-electric variant flying with zero emissions by 2030. Read more on Airlander 10's path to zero emissions flight here.
The RED A03 drives many environmental benefits when compared with other equivalent propulsion solutions. High thermodynamic efficiency drives low fuel consumption. Optimised combustion results in reduced exhaust emissions. Low exhaust noise stems from intelligent engine architecture.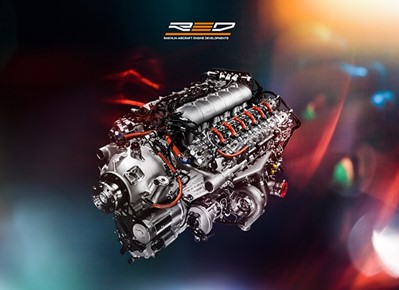 The RED A03 has a number of features:
Low fuel burn
Low exhaust gas pollution
Reduced noise emissions
High thermodynamic efficiency
Type Certified at EASA TC.E.150 and FAA
For more information about the RED A03 engine, see RED Aircraft's announcement here.