What we're doing at Hybrid Air Vehicles is something incredibly exciting, but also quite unique. We're bringing to market a completely new aircraft type that will contribute to the reduction of aviation's emissions globally, while building new connections across the world. A unique project calls for unique perspectives.
Inspiring Voices
As we prepare to enter an intense phase of growth with the launch of our production and type certification programme, attracting and nurturing talent will be crucial. The launch will see the start of a recruitment initiative which will employ over 1,200 people in new green aerospace roles. It is this team of people that will be responsible for the development, flight test and certification of the first Airlander 10 aircraft, which will be in service with our customers from 2027. As the production of Airlander 10 begins, having an empowered workforce that is able to reach their full potential will be a critical component of our growth.
Our people & culture team, alongside our newest advisor Kate Tojeiro, are all hyper-focused on the growth and development of our team. Kate brings to HAV 15 plus years' experience working with FTSE 100, Fortune 500 and cutting-edge start-ups as an executive coach. Kate is no stranger to working with fast growth companies, and she is working with our people & culture team to scale our business from the 60 people we have today to the 1,200 people our production organisation requires. Just one way Kate is helping our team prepare for this significant growth period is the introduction of a brand new initiative: our Inspiring Voices series.
The Inspiring Voices series will bring the unique perspectives of inspiring and innovative speakers from across the sport, business, arts, and charitable sectors. We're asking these speakers to share their stories and journeys with the team at Hybrid Air Vehicles, to provoke new thoughts and challenge our team's views. At HAV our people are central to what we do, and critical for our future success. It is crucial that we continue to focus on our diverse and inclusive workplace, enabling our team to flourish, innovate, and foster equity, equality, and creativity.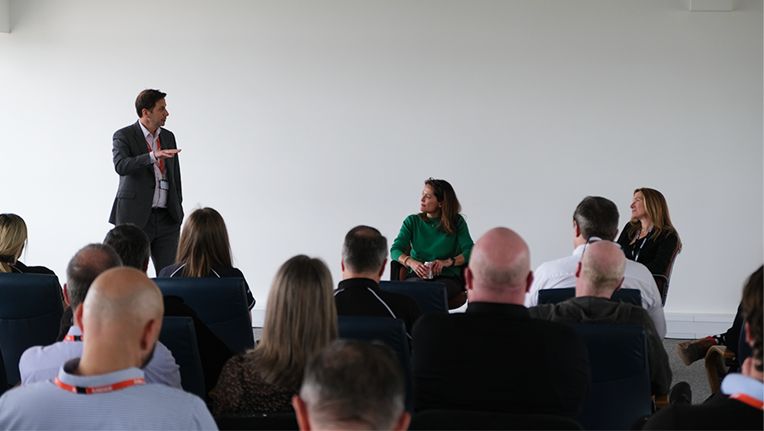 The value of a team
Our first inspiring voice was Amanda Stretton. Amanda is a leading automotive journalist with a rich and interesting history of competitive car racing. Amanda has raced competitively in historic GT and Le Mans prototypes on the world's most famous race tracks, and is still the only British female racing driver to have won an International long distance GT race.
Drawing on her experience of competing in the 24 Hours of Le Mans event Amanda discussed the critical importance of her team when it came to competing in one of the toughest endurance-focused sports car races in the world. Success at 24 hours of Le Mans is dependent on far more than just the capabilities of the driver, success comes from the capabilities of the whole team. The team must work together to balance the demands of speed, with the car's ability to run for 24 hours without mechanical failure. Just as we will find as we launch the production and certification programme for Airlander 10, Amanda found that overcoming the hurdles of this challenge, and succeeding, was entirely dependent on the team's collective performance.
This exposure to unique and interesting perspectives, from a wide variety of people, will provide our team with new ideas and thoughts that may challenge their preconceptions. The Inspiring Voices initiatives will contribute to setting the foundation for a growing organisation to serve the needs of a diverse workplace, as we expand our manufacturing and delivery operations and capability.