This decision comes as demand for Airlander 10 in the commercial market has been growing rapidly, with interest coming from major cruise lines, hotel groups, and tour operators. "We recognise that there is a lot of interest in purchase or lease of Airlander aircraft in the commercial market," comments Executive Director Tom Grundy. "Our confidential conversations with customers in other sectors are progressing well and these customers could easily absorb our early production capacity. We have taken the decision to preserve three production slots to ensure that the first commercial operators of Airlander have an early opportunity to satisfy the significant public appetite for unique luxury travel experiences."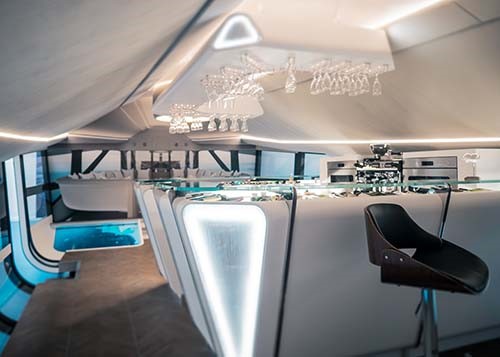 The increased interest in the passenger variant of Airlander 10 has followed from the launch of the concept cabin interior at Farnborough International Airshow last year. HAV has since brought a new Commercial Business Development Director, George Land, on board to address this demand and bring the first commercial Airlander 10s into the market.

"The desire for Airlander 10 in a variety of commercial tourism and hospitality markets is now clear," notes Land. "With a limited number of aircraft available as production capacity ramps up in the first years, holding three slots ensures that the first commercial operators to order aircraft will have an opportunity to take delivery of Airlander 10 in the early 2020s.

"HAV is also supporting the development of facilities to offer leasing options and operational support for Airlander 10. These facilities open up additional ways for the commercial market to access the aircraft. "We've seen the growing trend toward experiential travel," Land adds. "Airlander 10 is the perfect platform for companies to provide their customers something unique and meet their business goals."

HAV has also today unveiled a full-scale cabin demonstrator to provide prospective aircraft purchasers or lessors the opportunity to experience the available space and interior quality offered by Airlander 10.