As a part of HAV's preparations for rapid growth, our Board has appointed Tom Grundy as Chief Executive Officer, effective 30th May. Tom has been with the business for six years and has been instrumental in driving progress forward with customers and other stakeholders across a variety of markets.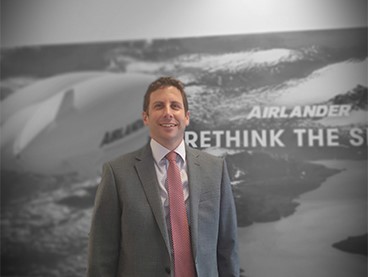 Tom brings with him significant experience in the aerospace and defence industry which has proved very valuable to HAV, and will continue to be so in his new role. A Chartered Engineer and Fellow of the Royal Aeronautical Society, his prior experience covers a range of senior engineering and programme leadership roles at BAE Systems, including serving as the Head of Business Management for ATTAC, the Tornado availability support service.
 
Tom comments: "I am honoured and excited to be given the opportunity to lead HAV through its transition to a successful commercial business. This business is poised to deliver an aircraft that offers new choices to customers in a low-carbon, capable, flexible, and cost-effective way. I look forward to working with the whole team to make our goals a reality."
 
Stephen McGlennan, who has served as HAV's CEO for six years, will step into a new role as Senior Board Advisor and General Counsel. We are delighted that in this new role Steve will continue to provide the company with the benefits of his deep experience and his long understanding of HAV's business. HAV thanks Steve for his enormous contribution to the business in his time as CEO, and as COO and General Counsel before that.
 
We have also named a new Chief Operating Officer, Nick Allman. Nick has held several roles at HAV, most recently that of Executive Director – Aircraft Delivery. He has brought the team from successfully securing the LEMV programme, through first flight, to being ready for production launch, and will now move forward with greater responsibility for the management of operations across the business.
 
We can also confirm that, as the time commitment demanded by the rapid developments at HAV has proved more onerous than anticipated given his other activities, Kevin Taylor and HAV have, by mutual consent, agreed that Kevin will step down as the Chairman and a Director of the company. Rod Sinclair, a long-standing Director, has taken on the Chairmanship of the Company. He comments: "I am delighted to be working with Tom, the Board and the leadership team of the business as we prepare HAV for launch of its production aircraft programme."
 
Full biographies of Tom Grundy, Nick Allman, Stephen McGlennan, and Rod Sinclair are available upon request.